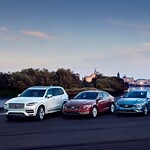 Luxury never gets old, which is what makes the Volvo CPO program so desirable. You get the incomparable versatility and capability of a classic luxury vehicle with up-to-date tech and safety features at less-then-new prices. Here's our Volvo Cars Bellevue team's quick breakdown.
How Volvo Vehicles Become CPO
Not every Volvo vehicle becomes a CPO vehicle. Candidates must pass a rigorous 170-point inspection that tests everything from headlights to the radio. Volvo-certified techs replace and repair parts to spec then test drive the vehicle to ensure it lives up to Volvo criteria.
Read More