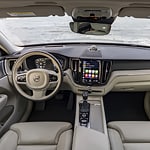 Compact SUVs are very popular among people of all age groups. The 2020 Volvo XC60 hasn't strayed too far away from this winning platform. Consumers will have access to some of today's advanced technologies. SUV enthusiasts will adore the high level of comfort as well as its primed powertrain.
The 2020 Volvo XC60 has enough seating for you and your friends. The exceptional level of comfort can't easily be put in words, but you definitely won't have any complaints while commuting. The SUV's supportive seats are perfectly designed to cradle your body. There's a flat floor, which is great for easy loading and unloading. The 2020 XC60 goes further by giving its occupants an uncluttered layout and plenty of legroom. This interior cabin has an effortless blend of form and function.
Would you like to test drive this beast? If so, then our associates can turn this idea into a reality.