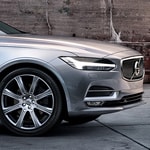 The Volvo V90 is a popular wagon that showcases luxury at its finest while keeping you safe in the process. With many safety features coming standard in all models, the Volvo V90 is a great pick for the defensive driver in you.
To start, the Volvo V90 sets the bar high with its innovative Blind Spot Information System. This safety aspect allows you to know when another car is in your blind spot and will keep you from making a lane change at an inappropriate time. Furthermore, the V90 also offers the automatic braking of the vehicle following a collision that will help you to avoid further tragedy that can result from accidentally steering into another object or person.
All in all, the Volvo V90 is a strong contender in the world of passenger protection and safety. With key offerings such as the Blind Spot Information System and the automatic braking function, the Volvo V90 puts your safety first.