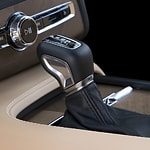 What level of performance do you get out of the Volvo XC90? It is well beyond anything that you can imagine for this class of vehicle. Even the standard package features an amazing number of features that help make this vehicle more powerful and more fun to drive than anything else.
All-wheel drive comes standard on the Volvo XC90, so does the great start/stop technology that helps keep you safe. It has driver-adjustable power steering and an eight-speed Geartronic automatic transmission. You just don't get all of those things in one package with other vehicles.
It is quite clear that the makers of the Volvo XC90 wanted to take every opportunity to push their vehicles to the limits in terms of what it could do. Give up nothing in terms of style and yet still enjoy a very powerful experience when you go with the Volvo XC90 as your vehicle of choice.